Crate to Plate
Crate to Plate is a service that is designed to foster a healthy lifestyle for students, by making local food more convenient.
2011
Crate to Plate is an online subscription service that delivers a series of seasonal local ingredients, paired with recipes, making the process of buying and cooking local food more accessible. This cuts down on waste, which saves money, and helps students to learn how to prepare meals for themselves. This short video shows an example of the overall experience Crate to Plate offers it's subscribers.
I contributed especially during ideation, basic demographic research, and overall service design process. Along with writing copy and giving presentations, I also contributed visuals such as the recipe cards and helped create visuals for the prototype video. The tools that I used throughout this project include: MindNode, Adobe Illustrator, Adobe InDesign, with some presentations made in Keynote.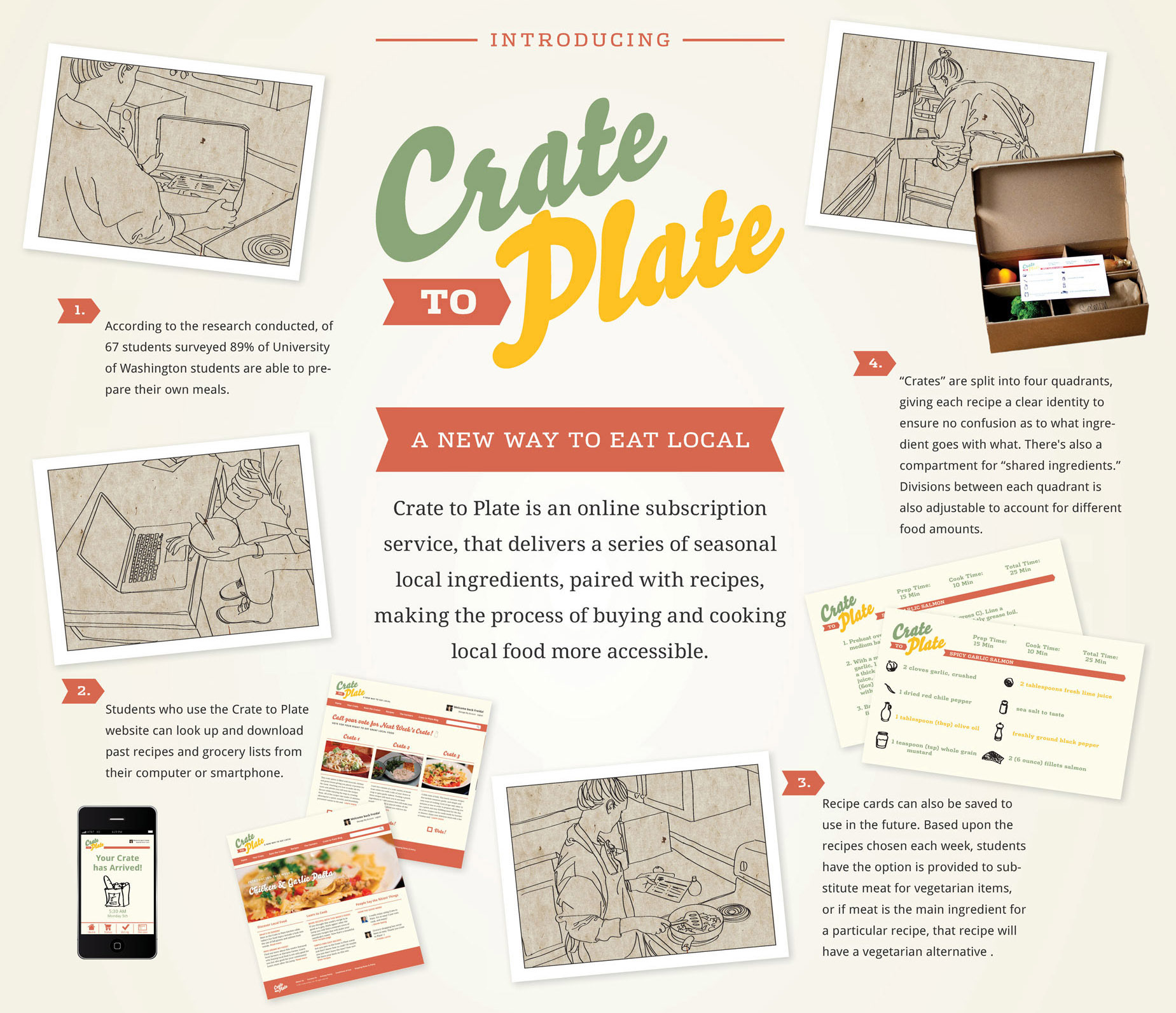 Our initial design brief was to incorporate local food into the University of Washington campus. We conducted some preliminary research then refined our brief to focus specifically on young adults who have access to cooking facilities and may or may not know how to cook their own food. Based on those parameters we conducted further interviews and surveys to find out what some of the key decisions that demographic makes in relation to their food buying and preparing practices. 
Our next step was to reach out to local farmers to see if it would be feasible to run a door to door delivery service and they wanted to get started right away! Their love of growing and sharing food was quite motivating and helped us to see that this brief was not just about food, it was about community.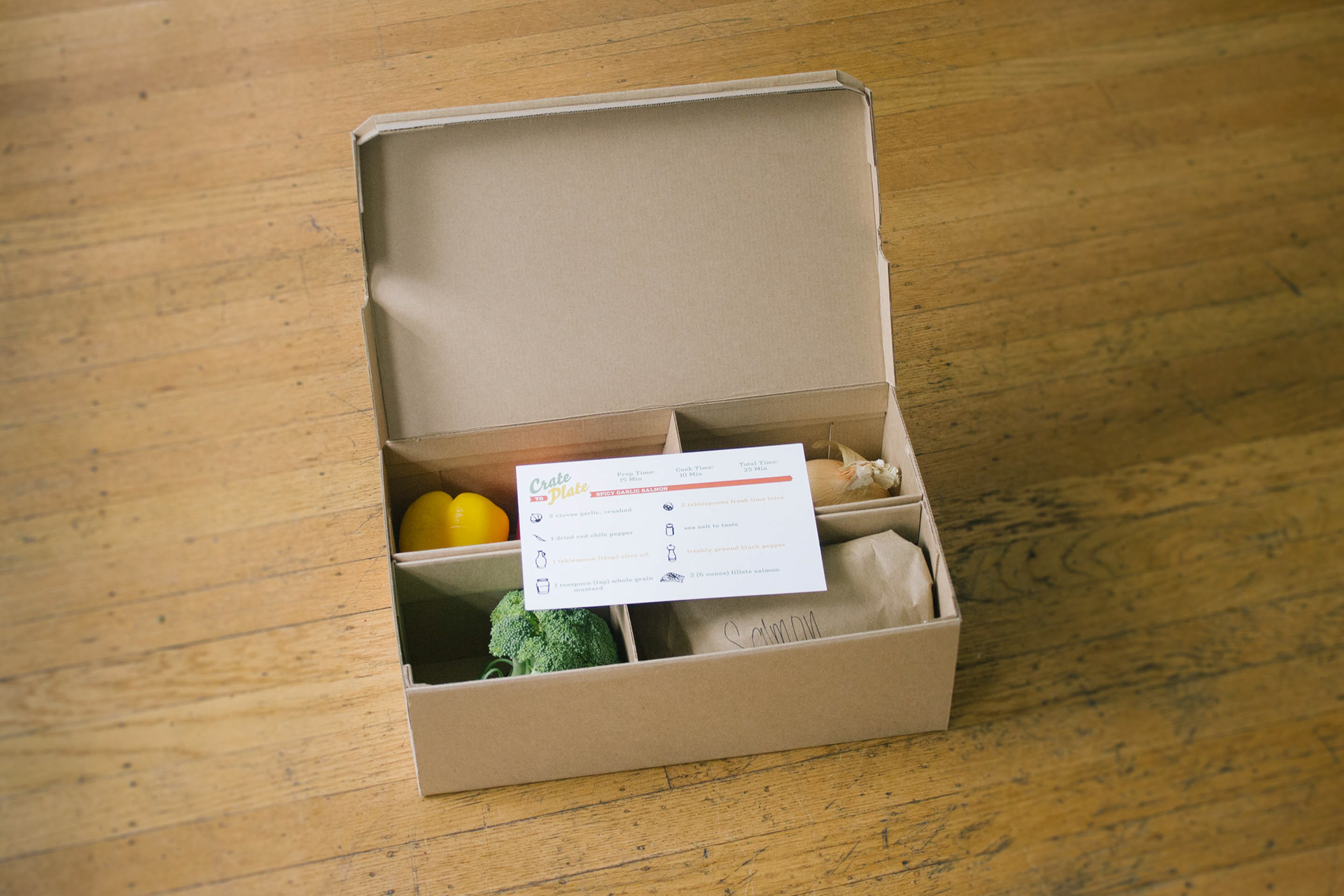 Based on this collection of research, we designed a food delivery service that had a few key elements:
1. It was comprised entirely of local food from a collection of farmers
2. Ingredients were chosen in order to overlap and allow for users to cook a selection of easy to follow recipes (to eliminate food waste as much as possible)
3. Subscribers would vote through the online community and receive the same "crate" in order to create a communal cooking experience
4. The adjoining app would enable users to quickly make grocery lists of any extras that they need to get from the store (or users could upgrade their "crate" to include everything they would need for cooking).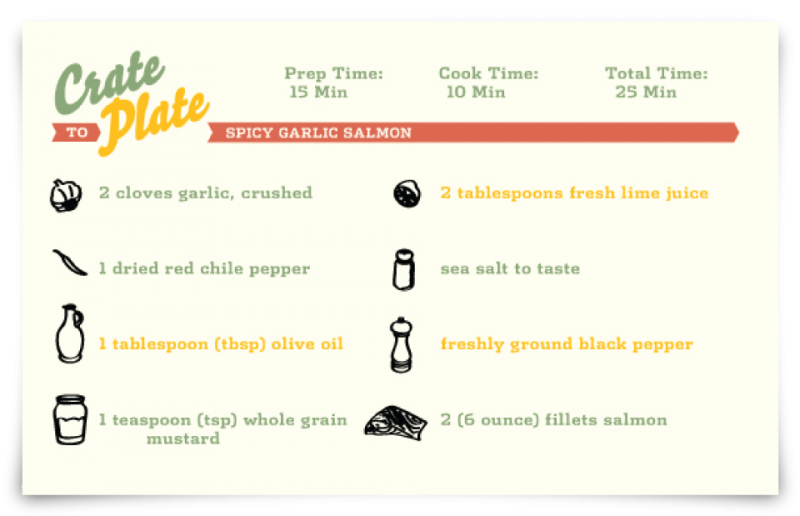 The recipe cards were designed to provide detailed instructions and give users enough information about timing so they can quickly choose the right meal for their schedule.